On Saturday I headed up to Silver Spring for what was advertised as a 4 miler. However, I noticed earlier in the week that the website wasn't exactly sure what distance the race was going to be.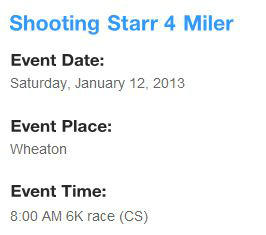 Given that last year's race was a 6k, I figured that was the more likely distance, but that wasn't confirmed until race morning. It didn't really matter to me what the actual distance was, I just wanted to know ahead of time so I could plan properly. Also, it was a double loop course so I figured that in a worst case scenario I would know by halfway!
I had convinced
Dash
to join me for the race, and we ran into
Caroline
in the middle of our warm up. I knew that it was probably going to be a hilly course and this was confirmed as we ran through the neighborhoods around the school where it started and finished.
As advertised, the course was a double loop, with an extra out and back section the first time around. I figured this was an excellent opportunity to experiment with pacing and decided to stay controlled the first time around and really try to pick up the pace for the second loop. Unlike the New Year's Day 5k, I didn't want to go out as fast as possible at the start. I do a pretty decent job of starting slow and finishing fast when doing tempo workouts at the track and I hoped to do that here. I don't know if it reminded me somewhat of being at the track, but the double loop really helped with this mentally.
Dash, Caroline and I lined up together near the start, but were quickly separated when the race started. The first section was a relatively steep downhill on a sidewalk (low-key race means no closed roads!) and then a short section across grass to get onto a paved trail. It was definitely crowded early on and I spent most of my time on the trail trying to weave around people. This got a bit more complicated when we reached the out and back section and fast runners were already coming back.
Despite the weaving, I felt pretty good in the early going. Somewhere shortly after mile two we headed up off the trail and ran up a pretty long hill through a neighborhood. During this section we were able to run on the street which was nice after the crowding earlier. I could see the "top" of the hill where everyone was turning and was disappointed when I finally got there, turned, and saw that we were still going up. We were also back on the sidewalk, which lead to a few close encounters with rogue bushes. Then there was a nice downhill before a short hill back up to the school.
I was feeling strong as I started the second loop and used the downhill to pick up my pace. It was also encouraging to know that the second time around wasn't quite as long as the first. I did a good job of speeding up until hitting the long hill a second time. Fortunately, I managed to stay relatively steady and didn't slow down all that much. Amazing what a slower start can do for you at the end!
For much of the race I was jockeying back and forth with a woman dressed all in black (not the woman in the picture above) and I surged past her on our second time up the big hill. I kept waiting for her to come back, but I stayed ahead ahead on the downhill. Unfortunately, she went flying ahead of me in the last 200 meters and I just didn't have the kick to keep up with her. I congratulated her after I crossed the finish line and she thanked me for pushing her. I love the camaraderie of runners!
Final time: 26:37
Splits: 7:12/7:11/7:02/5:10 (7:11 pace for .72)
This spring is all about racing and I plan to experiment a lot and test out lots of different strategies. The goal for this race was to use the double loop course to my advantage for pacing and hold back a little bit the first time around. I'm very happy about how I executed this strategy and I think it worked out really well. It's crazy how much better you feel in the middle and the end when you haven't broken yourself with a 6:30 something first mile!